Since I've been on a reading kick recently, I decided to binge read two books in a series right back to back. That way, there's no waiting on cliffhangers, no trying to read something else while my brain is stuck in a different world, none of that. And Danielle Vega's books have always been such quick, fun, spooky reads that I decided to finally pick up her newest horror series The Haunted! And like always, Vega had me sleeping with the lights on…
---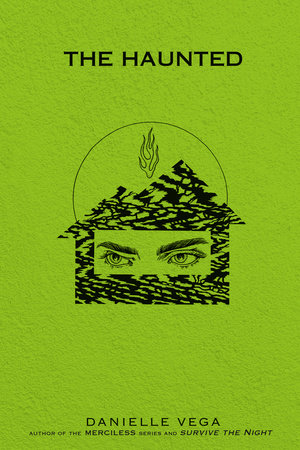 The Haunted (The Haunted #1) by Danielle Vega
Review by: Paige
Genre: Young Adult, Horror
Rating: ★ ★ ★
Synopsis: Clean slate. That's what Hendricks Becker-O'Malley's parents said when they moved their family to the tiny town of Drearfield, New York. Hendricks wants to lay low and forget her dark, traumatic past. Forget him. But things don't go as planned.
Hendricks learns from new friends at school that Steele House–the fixer upper her parents are so excited about–is notorious in town. Local legend says it's haunted. But Hendricks isn't sure if it's the demons of her past haunting her …or of the present. Voices whisper in her ear as she lays in bed. Doors lock on their own. And, then, one night, things take a violent turn.
With help from the mysterious boy next door, Hendricks makes it her mission to take down the ghosts . . . if they don't take her first.
---
Review: Danielle Vega is a horror master. While I didn't enjoy this book as much as I enjoyed The Merciless series, it was quick, easy to get into, and definitely made me want to keep reading—this book and the series. It was a classic, well-written haunted house story.
I liked Hendricks, but I felt like I didn't get much of a sense of who she really was, though that aspect was very directly addressed, so I'm excited to see how she grows. I loved her relationship with Eddie, and I'm…curious…to see what evolves there. No spoilers…
However, there was one scene towards the end where I really could not suspend my belief. If you've read it, you likely know what I'm talking about. It was just a bit too absurd for me, and the descriptions of it weren't grotesque enough to hold the situation's weight. It just didn't work for me, and took this from a 3.5 to a 3. Still, though, this was a solid, thoroughly enjoyable read, and I'm genuinely excited to see this series through. If I know Vega, the stakes will only get higher, scarier, and crazier from here.
---
The Unleashed (The Haunted #1) by Danielle Vega
Review by: Paige
Genre: Young Adult, Horror
Rating: ★ ★ ★ ★
Synopsis: Following the devastating blaze at Steele House, Hendricks and her friends are trying to return to normal. Prom is coming up and the school is in full preparation mode. Hendricks tries to pitch in, to mimic Portia's enthusiasm, but the events of the last few months still haunt her. Steele House. Raven. Eddie.
Hendricks believes Eddie is still out there. She just has to find a way to reach him. Together with her friends, she forms a circle of seven and attempts to summon his spirit. Suddenly things start happening again. Flickering lights in the school library. Mysterious girls roaming the halls. The same song playing on a loop wherever she goes.
It all culminates in a violent attack and Hendricks realizes what they summoned may not be Eddie at all. The one thing she does know is that Steele House was only the beginning. And whatever they've unleashed is more dangerous than anything they've ever seen before.
---
Review: Though I found this one a bit harder to get into from the start compared to the first, overall I enjoyed it a lot more. I felt more engaged, I think because this time around, things seemed a bit less absurd—Vega's descriptions and situations were the perfect mix of creepy, terrifying, grotesque and alluring.
I also felt like Hendricks started to come into her own. I'm really excited to see how she continues to evolve, especially after that cliffhanger and what we learned about her role in Drearford. The stakes were definitely raised in this installment, so I'm hoping to learn more about the how and the why in the next book(s) (?) in this series. There's so much to still unpack, so I'm wondering what ultimate direction this series will go in.
Most of all, the difference for me with The Unleashed was that I felt scared. Well, as scared as I could be, as someone who has watched and studied enough horror to feel immune to it. I grimaced, I glanced over my shoulder, I pictured clearly every terrifying scene. With horror, so much comes down to imagery and feel, and in that sense this book was a perfect follow-up.
I think Hendricks and her friends are only on the verge of something, and I am both terrified and thrilled to find out what that is.